Bird ring group Vlieland

In the Kroonspolders on Vlieland as a member of the 'vogelringgroep 3de KP Vlieland' active during the migration in autumn. Not a CES project, but we do catch birds with mist nets set in the same pattern.

The reason for starting this ringing group was the passing away of Rein Rollingswier in 1997. Rein was the bird ringer here, and as a group we are trying to continue his work. Thus, we ring every year on a daily basis from middle of August to middle of November. The ringing group currently consists of Gerrit Bochem, Henri Bouwmeester, Frank Majoor, Holmer Vonk, Stef Waasdorp en Hans van Heiningen.

In addition to mist nets, we use the Vinkenbaan (the only one on the Waddeneilanden). Using songs from loudspeakers we catch the birds. The majority of birds is being caught with mist nets. But if we can catch birds with the classic 'slagnet' then we will not let that chance pass by.

The location of the Vinkenbaan in the middle of the closed Kroonspolders is unique. In terms of captures, you can expect everything or nothing at all, to very common or very rare. So when there are no birds to be caught you can be astonished by the beautiful skies with clouds, or the enormous groups of waders which move about depending on the low- or high tide.

See here a video impression in the program "Vroege Vogels" about the ringing group on Vlieland (in dutch).

See here for a unique list with all ring recoveries from Vlieland. Each species on a map.

Excursions
It is possible to visit this location with an excursion and the ringing work from nearby. From the middle of August to the middle of November you are welcome every Tuesday, Thursday and Sunday from 11-12 hrs. A voluntary donation towards the ringing work is enormously appreciated.

More information about this ringing project can be found at the website of our ringing group:
http://www.vinkenbaanvlieland.nl/.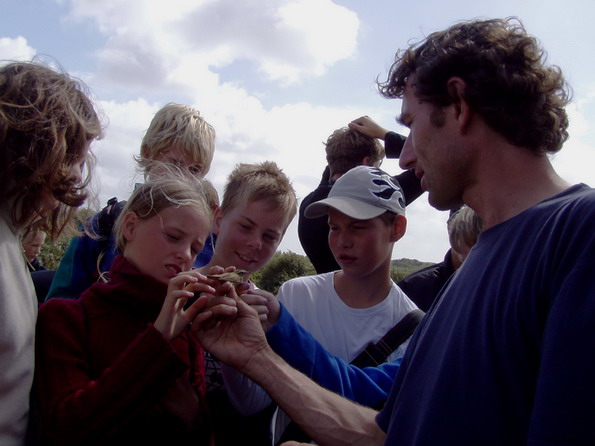 A Sedge Warbler caught during an excursion.
&copy Anne-Marie Hamming.